Cold Pipe Cutting During COVID Lockdown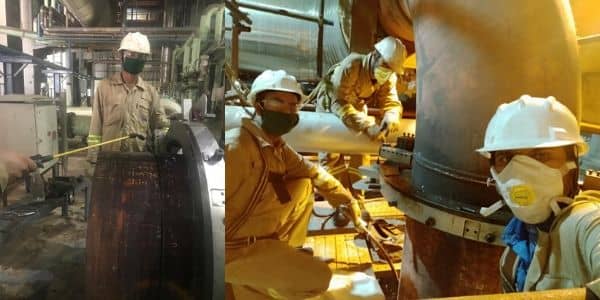 Pipelines are a crucial application for all major industries including petrochemicals, power, oil & gas, and many more. An unfunctional pipe can cause major losses to the plant and the respective communities. In this article, we will talk about how our maintenance team responded to a pipeline issue for a power major in Gujarat during the COVID lockdown in India. We will talk about the applications, importance and benefits of cold pipe cutting and how our team responded to the situation.
One of Gujarat's leading power distributor contacted our maintenance team after they witnessed slurry in their pipeline. As these pipelines are crucial to produce steam to burn coal and generate power, the plant cannot operate for long with four pipes down. With this steam powering five turbines, our customer requested ABS to be onsite services immediately. As the shutdown work was during the COVID lockdown, the maintenance manager arranged for necessary permissions from the respective authorities.
Our team was given a visitor pass and travel permission to the site. We were requested by the maintenance department to go ahead with the shutdown time which was on 22nd May 2020. As the customer's site was 300kms away from our office, our team had to remain under quarantine for 14 days as per government protocols. Also, while studying the application, our engineer recommended to start work early as they saw cracks in the pipe forming. The maintenance manager approved us to begin travel on 5th May 2020. Our team reached the destination and were quarantined for 14 days. On 18th May, the site was shut down from 11:30pm for our team to begin work.
As extended shutdowns reduce the productivity and business of the plant, our team began work from 12am and continued to work round-the-clock. Keeping the agreed timelines in mind, our team members completed the job as per schedule with 4 team members and a cold pipe cutting machine. A total of 4 "T" joint cuts were made on 26" pipes. The job was conducted on stainless steel pipes with thickness of 42mm. Scope of work included cutting, beveling, and welding. The pipes were connected by MIG welding. Our client was happy that we completed the job before schedule saving them from huge losses in the future.
As the job was conducted during COVID, we ensured that we worked with minimum manpower to practice social distancing efficiently. Keeping safety of site and manpower in mind, they operated with all the necessary PPE including gloves, masks, and helmet. Our team members also traveled in two separate vehicles to continue social distancing.
Why ABS?
With more than two decades of experience in offering precision tooling systems for Torqueing, Tensioning, Flange Maintenance, Pipe cutting, Pipe Bevelling, Flange Facing, and Jacks through association with industry-leading international brands like HYTORC, TensionPro, Cleco, AIMCO, CLIMAX, BOLTSTRONG, and HiSTRONG.
Strategically present across 12 offices and 6 service centers in India and the Middle East, we diligently focus on "quality of deliverance". Our persistence in delivering quality services assures our customers through our standard certifications like ISO 9001:2015 (Quality), ISO 45001:2018 (Manpower Safety), and ISO/IEC 17025 (NABL accredited torque tool calibration labs).
With the help of our skilled resources and team, we have delivered more than 400,000 man-hours to major industries like Oil & Gas, Infrastructure, Shipping, Automobile Manufacturing & Assembly, Heavy Engineering, Wind, Railways, Steel, Mining, Defence, Power and others.
We hope this article helped you understand the importance of cold pipe cutting and demonstrated the unmatched dedication and commitment our team offered during such unprecedented times. Visit us next time for more case studies from our maintenance team.