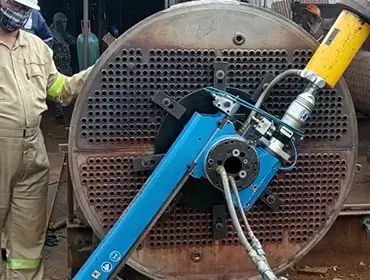 ABS's facers are capable of handling sizes ranging from 0" to 120" for ID, OD or surface mounting operations.
Flange Facing and Serration Range
Automated ID/OD Mount: 0" – 80"
Flange Serration Automatic: 0" – 80"
Manual Serration: 0" – 120"
Surface and Finish: 120 – 150 AARH
How Does It Benefit You?
Flexibility of automatic or manual serration.
Less manpower and safer to operate.
Ensures leakage-free flanges
Automated tools reduce job completion time and consistently provide accurate results.
Key Applications
Re-facing of main steam inlet flanges
Facing and beveling of pipes for sealing and weld prep
Repair piston rod mating flanges
Boiler feed pump flanges
Re-machining gasket seal on tube sheet
Repairing ring grooves or cutting new grooves
Plate and vessel weld prep
About
With the ability to reface, mill, bevel, square, counterbore, or machine weld prep or seal ring profiles, our skilled onsite machining team offers a range of portable flange facers. These facers are capable of handling various sizes, ranging from 0 to 120 inches (0 to 3048 mm), for ID, OD, or surface mounting operations. Flange maintenance is crucial, as flanges can be damaged by turbulent flow, impacts from other components during construction, and other unavoidable factors.
FAQs
ABS has specialized machines and tools, such as flange facers and serration cutters, which are used for these machining operations. These tools are designed to achieve precise results.
Yes, various industry standards and specifications, such as ANSI, ASME, and API, provide guidelines for flange facing and serration techniques to ensure consistency and safety.
You can contact us via mail: lead@absgroup.in, via call: +91-8282 829 795 or simply fill the form below.