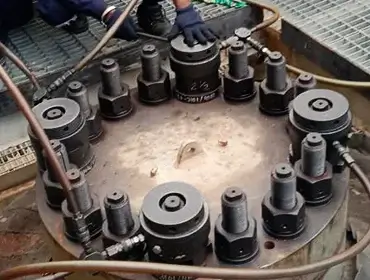 Our bolt tensioning tools are available for all ANSI, API, and ASME flanges, and could tension nut sizes up to 4".
Tools We Provide

Our selection of tensioners includes a broad array of options, such as -

Standard
Spring Return
Foundation
Multistage
Subsea

Our tensioners are known for their dependable performance and top-tier quality, with minimal instances of complaints.

How Does It Benefit You?

With over 25 years of experience in the bolting industry, ABS has played a pivotal role in numerous projects where precise tensioning jobs were of paramount importance. Our track record includes consistent outperformance of our competitors, owing not only to the exceptional quality of our tools but also our commitment to after-sales support.

Don't just take our word for it – book a free demo and experience it for yourself.

Key Industries

Tensioning plays a crucial role in several applications, some prominent industries where tensioning is essential include Oil and Gas, Wind Energy, Petrochemical, Construction, Nuclear, etc.

About

We offer a diverse range of tensioning tools compliant with the standards established by the American National Standards Institute (ANSI), the American Petroleum Institute (API), and the American Society of Mechanical Engineers (ASME).

Our premium tensioners are compatible with all ANSI, API, and ASME flanges, with the capability to handle nuts of up to 4 inches, ensuring reliable and efficient bolting operations. We tailor our tensioning solutions to meet your specific requirements.

Bolt tensioning tools are available for all ANSI, API, and ASME flanges. Our bolt tensioners can tension nut sizes up to 4 inches.
FAQs
Our services cover all of South East Asia and the Middle East.
Certainly, we offer both dry rentals (tools only) and wet rentals (tools with highly skilled manpower).
ABS exclusively offers premium tools with a flawless track record. Our tools consistently outperform others in the industry, ensuring top-notch performance and reliability.
You can contact us via mail: lead@absgroup.in, via call: +91-8282 829 795 or simply fill the form below.