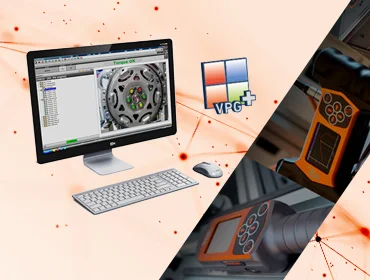 VPG, or Visual Production Guide, is specialised software compatible with all Nutrunners. It is created to facilitate operators in choosing the right tightening program and the associated tool for specific tasks.
More on VPG+

The software developed by SCS is compatible with any nutrunner, regardless of the brand. This capability offers tremendous benefits to individuals in the industry that go beyond imagination. ABS has even conducted remote operations using this software to successfully complete tasks.

VPG outperforms other software options by providing the unique ability to connect with any nutrunner in the bolting industry. The software offers a manual or automatic mode for rework or assembly procedures. It offers vital information and visual cues, such as images indicating "OK" or "NOK", which assist operators in deciding if further tightening is necessary.

The software also includes a rework mode, allowing users to manually select sequences as needed, enhancing precision in the tightening process.

Data Tracebility

Real time torque rate check
Results and trace analysis
Visual Procedure

Handles Other Operations Than Tightening

Logical Operations
Positioning
Liquid Level Check
Distance Measurement; etc.
FAQs
Some benefits of VPG+ are: Error-free assembly, Enhanced rework process capabilities, An economical solution for rework and assembly procedures, Quality improvement Guidance for operators
Some features of the VPG+ include: Guidance for operators throughout assembly and rework tasks, Faultless procedures, Automatic identification of the appropriate tightening program and the corresponding tool for the task Visual instructions for real-time operator support, Instant status updates, Option for manual or automatic mode for both rework and assembly operations Data traceability with Vehicle Identification Number (VIN) management