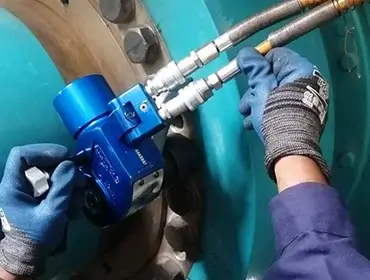 Our controlled bolting services could torque up to 1,87,779 Nm i.e. nut size up to 245 mm.
Tools We Provide

Our premium product line includes the following category of torque wrenches –

Hydraulic
Electric
Battery Operated
Pneumatic
Manual

Our tools cover torque range extending up to 1,871,779 Nm.

How Does It Benefit You?

We outperform the competition by offering tools with the lowest probability of failure. As a significant factor in assuring joint integrity, our experience and commitment towards simplifying complex bolting jobs have ensured joint integrity in various industrial applications, including flanges, pipelines, pressure vessels, girder bolts, valves, turbines, etc.

Key Industries

Torquing plays a crucial role in several applications. Some prominent industries where our clients have shown trust in our services include Oil and Gas, Chemical, Renewable Energy, Petrochemical, Automotive, Construction, Railways, Mining, etc.

About

ABS provides torquing services with an impressive range of 1,87,779 Nm and the capacity to handle nut sizes up to 245 mm. Our inventory is equipped with the finest torque wrenches, ensuring precise and reliable solutions for your specific applications.

With 25 years of experience in the bolting industry, we possess insights better than every competitor, to address your requirements. Our highly skilled team of engineers is dedicated to meeting your needs within the timeframe, often quicker.
FAQs
Our services cover all of South East Asia and the Middle East.
Certainly, we offer both dry rentals (tools only) and wet rentals (tools with highly skilled manpower).
ABS exclusively offers premium tools with a flawless track record. Our tools consistently outperform others in the industry, ensuring top-notch performance and reliability.